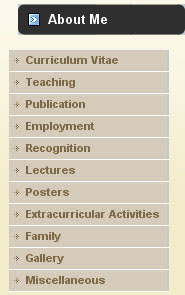 Personalities who shaped my life
The two people who had a profound influence on me are my parents. My dad Dr. D. N Pal was a successful dermatologist and was always busy with clinics. My mother Mrs. Mira Pal was a simple house wife. Though, my dad could spare very little time for me, but he had made a rule that our family remain together at dinner. During dinner he used to ask us about our daily activities. The best thing about him was that he used to discuss almost everything with us during dinner. Discussion topics included astrology, ghost, sports, biology, movies, life and even sex. He used to analyze each thing in details and what ever we could not understand he made them easy for us. Once, when I was very young I asked my dad should I believe in astrology. He replied that astrology though a good science is not that developed as astromony. So we should not have a blind believe in astrology. Though he himself studied palmistry and was a good palmist. He always used to tell me that when you are in difficulty thing and act. And the thinking process should be from the brain based on logic and not driven by emotions. He explained about sex to us in a simple manner when we were very young. He also made me taste alcohol when I was in high school and told me how to enjoy it in a party. I always adored his determination. Dad was a chain smoker, one day he stopped smoking suddenly. Later, he told us that he delivered a lecture on the harmful effect of smoking. During his lecture he realized that he himself do not follow any of them. So he decided to quit smoking then and there. He was a self made person and had overcome major hurdle in his life with immense determination. My mom had a tremendous skill in acting. She was also a very good dancer. Moreover, she was very good in home management department. It was because of her that I could go to Bhopal for higher studies. Though I was not good at my studies, but she had tremendous belief that I will excel in my studies one day.     
My Aunt whom I called Masi was next important person who played an important role in shaping up my life. She was my guide and philosopher during my stay in Bhopal. Because of her guidance I never made any serious mistake in my college life. I was not that smart during my school days. My cousin Khokon, Maso (Uncle) and Masi helped me immensely to boost my confidence. As a result of which I started to excel in my studies and finally could complete my doctoral degree.                    
When I joined Indian Veterinary Research Institute, Izatnagar for my doctoral program I had very little idea about the course and credit system or veterinary science.  Two of my colleague i.e., Dr. Sanjeev Kumar and Dr. Vishesh Saxena helped me tremendous with my course work and later with my research project. Without their help it was not possible for me to complete my doctoral degree. I learnt the art of problem solving skill from Dr. Sanjeev. Dr. Vishesh was my lab partner and I learnt many research techniques from him.

[To know about Dr. Sanjeev Gupta click here]

The next important person had had a major influence in shaping up my career was my doctoral guide Dr. Harpreet Singh. As I knew very little about research when I joined him, hence, he patiently showed me how research is planning and executed. He took lots of pain to demonstrate the research technique himself. Moreover, he taught me how to write research paper. He was himself a perfectionist and wanted that I should also follow him. I learnt many technical and non technical things from him including the courage to stand by your own research work. He was open to new ideas and unconventional thinking. Both these skills later inspired me to take up research on alternative cancer therapies.

Mr. Brojen Das my father-in-law had a big influence on me. He was a champion sport person and was the first Asian person to cross the English Channel in 1958. My family including me was his big fan. Though he was a gifted swimmer, however, he had to fight hard to achieve his goals. Nothing came easy to him, he had to fight all his way to his success. He used to encourage me to take up challenging things and things that are not tried by anyone before. It was his cancer that initiated me to take up clinical research.  
[To know more about Mr. Brojen Das click here]
My wife Sanghita played the most crucial role in my life. I am alive today only because of her. When I was almost dead just after marriage because of the adverse drug reaction, she stood by me and supported me to overcome my problems. Whenever I was very upset because of the prevailing unfortunate situation her emotional support acted as a cushion to me. She took all the pains to do tuitions to support me financially. She was very witty and managed many tricky situation single handedly thus making my life comfortable. Without her my life could be meaningless.

[To know more about Sanghita click here]

Prof. G Choudhuri, was my mentor during my post doctoral research. Though I was associated with him for Hepatitis C project; however, he also encouraged me to take up research work on cancer. My passion for alternative cancer therapy was known to him. In fact he guided me to take up proper research work on unproven therapies. It was due to his encouragement that I could visit National Cancer Institute, Bethesda, USA for presentation my research work on alternative cancer therapy HUMA.    

Dr. Hina Fatima gave me a platform and support to fulfill my dream to do proper research on alternative cancer therapy. My association with her from 2000 ultimately resulted in a compilation of reports of 20 cancer patients who responded to her herbal cancer therapy call HUMA. The compilation was later sent to the Office of the Cancer Complementary and Alternative Medicine (OCCAM) - National Cancer Institute, USA. We both were invited from OCCAM to present our research findings. Our research could establish that herbal therapy can be useful in management of advance stage cancer patients.  
 

[To know more about Dr. S Hina Fatima click here]


Wasimbhai my spiritual Guru is a special person who played a crucial role in my life. He made me aware of many difficult situations in advance and counseled me accordingly. By knowing the situation in advanced helped me to be better prepared to tackle the situations. His ideas had a tremendous impact in my family and difference of opinion was solved just by talking to him. 

I also like to acknowledge some persons who helped me in different phases of my life. My cousin Anima di helped in my studies when I was in school. My sister Samita and brother Sandip was always beside me when ever I required them. My friend Navin Singh was my best friend in school. He helped me with my Hindi lessons. Dr. Achyanta, Dr. Pallab Chowdhury, Mr. Sandeep Srivastava, Dr. Rajeev Saxena helped me immensely during my PhD. course work. Dr. M B Patel, Dr. Anup Bhaumik and Mr. Asutosh Soni had a special bond with me. I always got their help when ever I required any.  When I returned to Bhopal Babu da and Bithi di helped us a lot. In Sanjay Gandhi PGI, Lucknow, Dr. Anita Saxena, Dr. Mahendra Singh, Dr. Uddalak Bharadwaj, Dr. Sudhish Mishra, Gouri Sankar Pandey, Aakansha and Mr. T S Negi help me to reestablish my research career. Later on Mr. Ananda & Santana Chakroborty help us in various miscellaneous affairs. Dr. Aamir Nazir & Dr. Indranil Mukhapadhya of Indian Institute of Toxicology Research (ITRC) were very helpful when I was there.  Dr. Debashish Ghosh, Dr. P S Bedi, Dr. Balvinder Singh, Dr. Vikalp Vishwakarma, and Dr. R N Singh gave me much needed company when I was alone in Dehradun. I also like to thank Vaidya Balendu Prakash who introduced me to Ipca Laboratories, Mumbai. I also like to acknowledge my colleague at Ipca i.e. Ms. Madhu, Mr. Rajesh Malhotra, Mr. Abhishek Patki & Mr. Nitin Chandurkar who helped me to get a foot hold in this place.
Memories