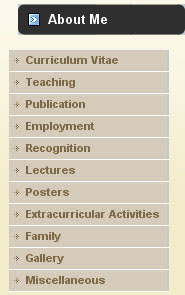 My Childhood days in Kharagpur
My father worked in the South Easter Railway Hospital in South Side, Kharagpur. He was allotted a big bunglow near the Railway hospital. The colony in which we lived was one of the best build railway colonies of India. The colony was build by the Britishers in the early 1900s. All the bunglows had big open area for gardening and some had tennis court and swimming pools. All the bunglows had 4-5 servant quarters or out-house as we used to call them. The bunglows had strange features i.e. the rooms were very big, almost 20 ft x 20 ft x 20 ft. This was done to protect from hot summer. Though Kharagpur was only 100 km away from sea shore, but in summer the mercury level rose to over 40 ◦C.  
My sister and I used to study in S E Railway Mixed Higher Secondary School situated near the railway station. This school was started by the Britishers and was one of the oldest schools of Kharagpur. The school was 10 – 15 minutes walking from our house. Avinash da use to take us to the school in his cycle. There were still many Anglo Indian teachers in the school. I vividly remember Miss Desilva my teacher of KG class and many things which she taught us. The other teacher who had a profound influence on me was Miss Hurst (teacher class 1) and Miss Cashu (teacher class V). Their way of teaching was quite different than the Indian teachers. I made some good friends over there viz. Sanjay Rao, Dibendu Basu and Sanjay Roy. As I was not very comfortable with Indian teachers, hence, after my primary I changed my school. For my secondary schooling I studied in Hijli Higher Secondary School. Anyway, I was not a bright student and required tuition. Mr. Ramakrishna Chakraborty and Buro Mastermosai coached us regularly till my 10th standard.
Our house was meeting place of all my friends in the evening. There was a big play ground nearby our house, all my friends first used to come to my place and then we used to go for play. We used to play various games like football, cricket, foot tennis, gilli danda, marbel, kho kho and kabadi. My friends included Mantu, Anand, Partho, Papun, Sandipan, Bapi, Chandan, Kallol, James, Animesh, Sanu, Kamalobho and many others. Bubuda (Arup Sengupta) taught me the basic of cricket. Sometimes, when it was windy I used to fly kite. I used to make manja myself. Manja is a process of making the cotton thread stronger by applying glass dust with adhesive to it. When dried the tread became stronger and sharper that can cut through any thing. While flying kites it was easy to cut the thread of other kites.
During vacation I used to accompany my dad to the officers club. There we used to play badminton indoor. There was also a swimming pool in the club, we used go there occasionally. Jhatu (Dr. Bimal Chandra) who crossed the English Channel after Mr. Mihir Sen from India taught us swimming. We used to go to club every Saturday evening as it was the club day and Bara Mia & Chota Mia (club caretakers) used to prepare delicious snacks for us. Also there was screening of classic black & white English movies. I saw may Charlie Chaplin movies over there.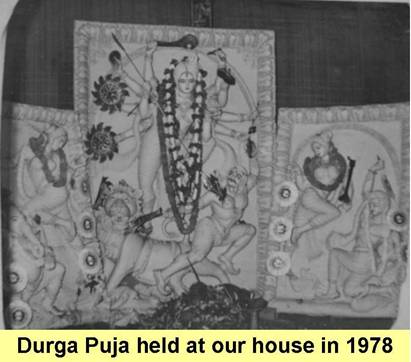 I loved pets and had over 100 good variety pigeons, guinea pig, rabbits, hen & cockerel. We also had a cow for few years. My father brought an aquarium in 1975 and placed it in his chamber so that his patient can pass time while waiting. Latter, I took keen interest in maintenance of the aquarium and started breeding ornamental fishes in my home. I was quite successful in breeding many varieties. During Diwali we used to make clay house (Diwali Ghar). It took many pain staking days to complete the building process. My brother & sister played active role in it.
A special feature that I enjoyed in my childhood days was Durga Puja. My dad was deeply involved with the local Puja committee. Every year the Durga Pratima (idol) was made in our garage. Watching the transformation of bamboo, straw & clay into a beautiful Pratima was a real thrill. I still remember in 1978 when there was devastating flood in Bengal the Durga Puja was held at our house. It was done in order to donate money to the flood victims. We used perform skits and plays during the Puja, Roychowdhury Jathima used to direct us. We had a great fun while performing. Also, my parents and their colleague & friends also had a theater group and every year they used to perform in the railway auditorium. The rehearsal of the act was usually done at our house, it was real fun to see them acting.                          

Memories of Kharagpur